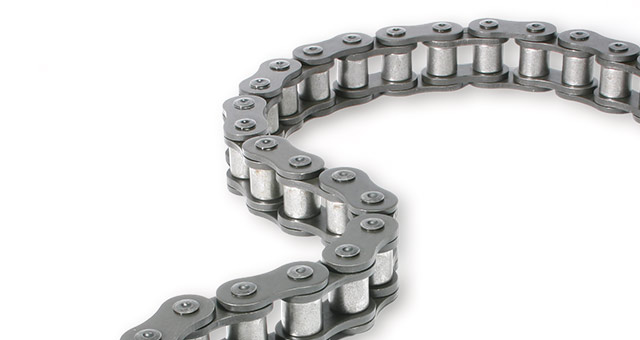 Chain
The industrial chain market is vast and complex, and it can be difficult to know what you're looking for. There are hundreds of manufacturers, all offering different products, but how do you decide which one is right for your business?
Town & County has a wealth of over 40 years of experience in the industry, and we will go out of our way to ensure that you receive the best possible service. From advising you on application design, helping you to optimise your machines, or sourcing a replacement chain quickly to minimise your downtime, Town & County are here for you.
Chain is highly versatile. With over 98% efficiency, coupled with a high level of accuracy, it's easy to see why it is often the power transmission material of choice.
We supply a wide range of chain brands, including Tsubaki, Donghua, IWIS, Renold and SKF. Types of chain that we supply include:
Roller Chains
The most common type of chain drive, consisting of rollers and links, with excellent joint articulation. It is both a simple and efficient means of transmitting power.
Conveyor Chains
Designed for high loads and low speeds, conveyor chain is available in both imperial and metric pitch sizes, with a range of attachments.
Attachment Chains
Simplifying the conveyance of materials whilst improving efficiency and safety, attachments such as vulcanised elastomer profiles or sawtooth plates are invaluable to many industries.
Sprockets
The profiled wheel of a sprocket has teeth that mesh with the chain, causing motion. They are an essential component in any chain drive.
At Town & County, we have vast experience in supplying specialist chain to suit individual requirements, for example stainless steel chain for the food and beverage industry. We understand the importance of selecting materials which are able to withstand the high pressure washdowns that are frequent in the industry, as well as being reliable and efficient.
Whatever your chain requirements, Town & County is here to help. Contact us today to find out more about the solutions we could offer you.