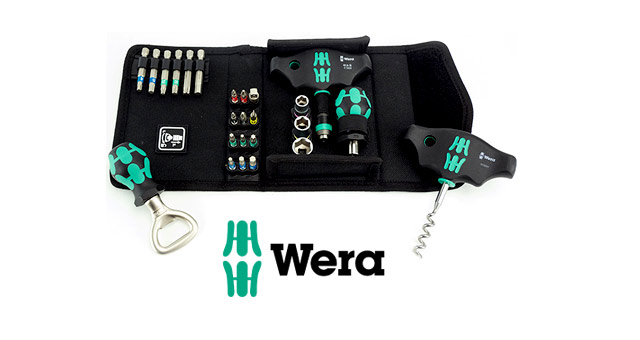 Wera Tool set
ONLY £29.50 +VAT
In terms of collectibles, you get an exclusive T-handle corkscrew and a bottle opener.
You also get a T-handle Rapidaptor screwdriver bit holder, a magnetic bit holder, a selection of 1/4″ hex power and insert screwdriver bits, a socket adapter, and 3 sizes of 1/4″ drive metric sockets.
The T-handle screwdriver handle with Rapidaptor bit holder is a great piece of kit.
Full list of items:
Textile storage case
416R T-handle Rapidaptor screwdriver for 1/4″ bits
801 Stubby magnetic bit holder for 1/4″ bits
T-handle corkscrew
Stubby bottle opener
8790 HMA 1/4″ drive sockets: 8.0, 10, 13 mm
870/1 Adapter: 1/4″ insert to 1/4″ square drive
840/4 BTZ BiTorsion hex bits: 4.0 x 50mm, 5.0 x 50mm
840/1 BTZ BiTorsion hex bits: 3.0 x 25mm, 4.0 x 25mm, 5.0 x 25mm
840/4 Z hex bit: 6.0 x 50mm
867/4 BTZ BiTorsion TORX bits: T25 x 50mm, T30 x 50mm
867/1 BTZ BiTorsion TORX bits: T15 x 25mm, T20 x 25mm, T25 x 25mm
867/4 Z TORX bit: T40 x 50mm
800/1 BTZ BiTorsion slotted bit: 0.8 x 5.5 x 25mm
851/1 BTZ BiTorsion Phillips bits: #1 x 25mm, #2 x 25mm
855/1 BTZ BiTorsion Pozidriv bits: #1 x 25mm, #2 x 25mm
Hurry, order today while stocks last...