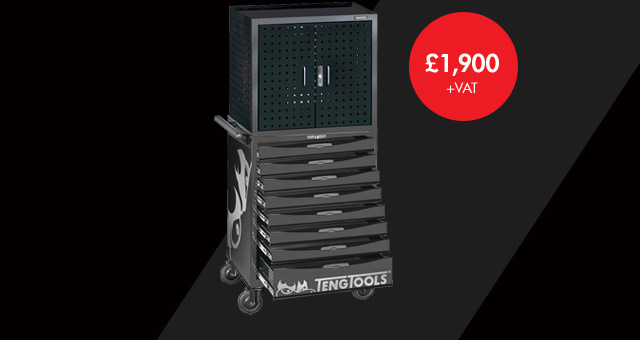 Teng Tools Limited Edition Tool Kit
Our Price: £1,900.00 + VAT
List Price: £4,774.00 + VAT
Teng Tools ID: TCMM649NBK
649 Pieces
The Teng TCMM649NBK Limited Edition Tool Kit 649pc is an astoundingly extensive selection of tools and accessories housed in a sleek black roller cabinet.
The top cabinet has an in-built workspace with a foam mat measuring 10mm thick. It also features a cable hole that is rubber protected to allow for a plug to be connected with a power source to power a mobile phone, diagnostic tool, or laptop.
For added security, the cabinet also features a combination lock to safeguard items while they are charging. This limited edition tool kit includes a range of socket sets, screwdrivers, pliers, scrapers, workbench accessories and much more. Ideal for professional users.
Contact us to take advantage of this great offer...